Product Name: Automatic four clipping intestinal machine XZG-4
Product Code: N201381594346
Material: Stainless Steel
Product Type: XZG-4
Product Features: Adopt advanced touch-screen operation mode, the length of the product can be adjusted. Disposable achieve four sausages.
Technical parameters:
Applicable intestinal diameter:9-30mm

Single intestianl length can be adjusted.
Operating voltage three-phase: 380v
Power: 6.25kw
Production capacity: (80 ~ 132) X4 (depending on the product specifications)
Dimensions: 1445 × 1107 × 970 mm
The length of the single intestinal body can be adjusted.
1、 Simple operation
2、Pinion bearing achieves a number of transmission in lubricating oils when the gearbox is driving,it can make the work stable and reliable.
3、Circuit system adopts PLC to control, servo drives, HMI operation length can be adjusted arbitrarily. Length of the uniform (related with the enema plumpness)
4、Reasonable and simple structure
5、Since the machine adopts gear box to drive, the locking mechanism work by the servo drive and low inertia is so fast, it is the best choice for the high-volume production.
6
、
The machine can achieve automatic operation.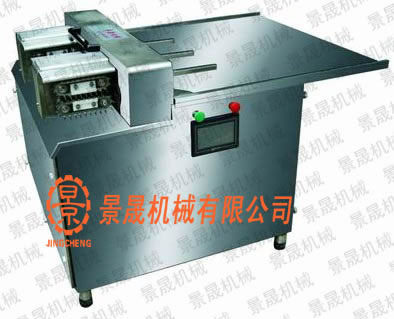 The vedio of the machine